Outside School Hours Care (OSHC)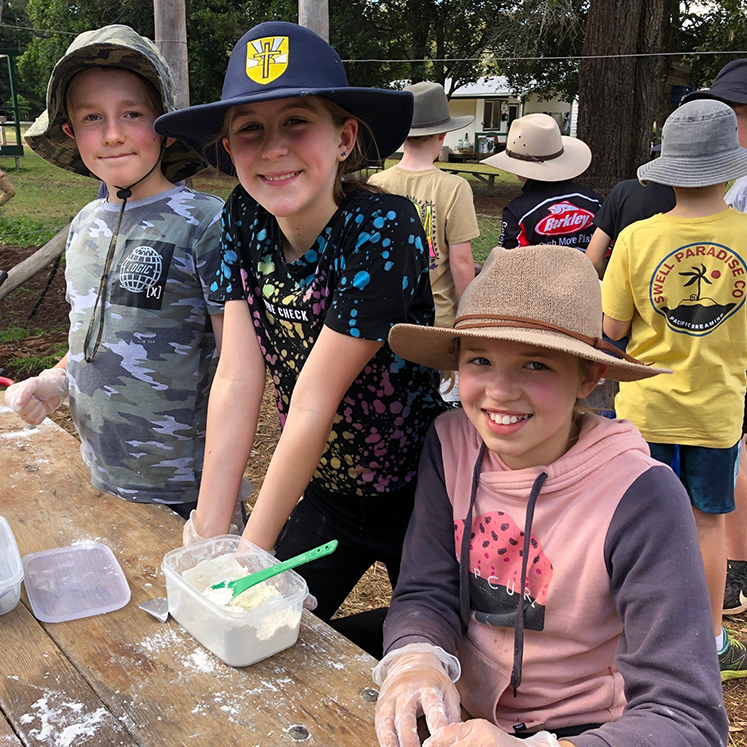 An experience of a lifetime
Immanuel's OSHC program goes above and beyond to allow all children to experience one-of-a-kind activities that can't be found anywhere else. We are a not-for-profit organisation that provides an outstanding environment for families across the Sunshine Coast (not just for ILC students).  Our programs are child-centred and flexible to ensure that everyone is having fun and enjoying an area of interest, perhaps for the first time. Our service is offered to all children from Prep to Year 6.
As a licensed childcare service, we prescribe to the National Child Care Laws and Regulations and undergo an assessment process that is measured against the National Quality Standards. Unannounced visits from the Department of Education, Training and Employment ensure quality and adherence to the law and regulations.
Our service currently holds an Exceeding the National Quality Standard certificate which we strive to uphold through our daily practices. Our programs are designed around the Framework for School Aged Care – My Time, Our Place – outcomes as well as the National Quality Framework Areas.
You can be assured that your child will not only have a wonderful time with us, but also receive high quality care.
For information regarding the assessment and rating process, please refer to the Australian Children's Education and Care Quality Authority website: https://www.acecqa.gov.au/
Our Educators
Our educators are committed to ensuring that children are in quality care. Staff are experienced and qualified to provide a safe, friendly and interactive environment. Our educators are caring, outgoing and enjoy getting involved in all activities to ensure that every child is being included and having fun. As a part of our philosophy, we hope to form active relationships with all children, families and the community to create a warm and positive atmosphere.
Enrolment & Booking Forms
Enrolment forms:
After School Care
OSHC provides a fun and flexible after-school program. Educators strive to ensure that the children are given endless opportunities to explore new activities and learn new skills.
Some of the activities that the children regularly participate in include:
Construction
Science experiments
Arts and craft
Swimming
Family dinners
Sports
Cooking
OSHC also provides afternoon tea which is all child suggested.
Vacation Care
OSHC provides a variety of awesome activities for all school holidays and student-free days. We aim to create fantastic school holiday programs by providing unique and evolving activities. Additionally, with the use of Immanuel's amazing facilities, your child won't feel like we are on a school site.
Just some of the activities our vacation care children get up to during the holidays are mentioned below:
Indoor stadium – Netball, basketball, soccer, table tennis, video arcade
Lecture Theatre – Movies, Just dance, performances
Rainforest – Hiking, shelter building, mud obstacle courses, Easter egg hunt, scavenger hunt
Main Oval – Colour run, messy obstacle courses, sports matches, nerf battles
OSHC area – Art, mad science, cooking, craft, various incursions.
We also believe it is important to expose children to the greater community through excursions. Some excursion examples include Mooloolaba Beach, Horse Riding, Currimundi Lake, Surfing Workshops, Fishing at Chambers Island".
Adventure Sports Academy
Does your child demonstrate positive leadership and sportsmanship skills? Do they have a sense of adventure and love working in a team? Maybe they enjoy the great outdoors? If the answer is no, then we believe, after joining us for Vacation Care, the answer to at least one of these questions will be yes!
OSHC is proud to present our Adventure Sports Academy program which is designed to encourage children to connect to nature. This program aims to develop a passion for being active and in nature.
Some of the activities on offer include:
Obstacle courses
Fishing
Horse riding
Surfing
Beach exploration and swimming
Sports festival
Ultimate scavenger hunt
Archery
Rock climbing
Hiking
Forest School
Immanuel Lutheran College is lucky to be surrounded by a beautiful forest which provides endless opportunities for learning and exploring.
OSHC has designed a program that supports the idea of respecting and working within our surrounding environment. The children participating in this program have the unique experience of working in the forest and using hands-on equipment and forest resources to create their own 'place' in the forest.
Some of the activities that we offer include:
Kindling splitter
Wood splitting
Pen knives
Flints
Knots and lashings
Shelter building
Natural tie dying
Kellie kettle
Family campfires
Cost & Payment
Child Care Subsidy
ILC OSHC has been approved by the Australian Government to administer eligible families with the Child Care Subsidy. The subsidy will be paid directly to the service and you will pay the gap fee. To find out if you are eligible, please contact Family Assistance.
Full Fees (not including the CCS)
After School Care
(3:00pm- 6:00pm)
Cost: $30.00
Vacation Care
(8:00am- 6:00pm)
Full day: $60.00
Half day: $30.00 (AM – 8am to 1pm and PM – 1pm to 6pm)
Payment
Invoices are issued each fortnight and are paid 14 days after the date of issue through direct debit, credit or debit care, internet transfer or using this secured Westpac payway site:
Contact Us!
The service is conveniently located in its own room next to the Primary School Tuckshop at the undercover area at Immanuel Lutheran College.
126-142 Wises Rd, Buderim QLD 4556
Email oshc@immanuel.qld.edu.au
Phone (07) 5477 3418 and 0499 996 931